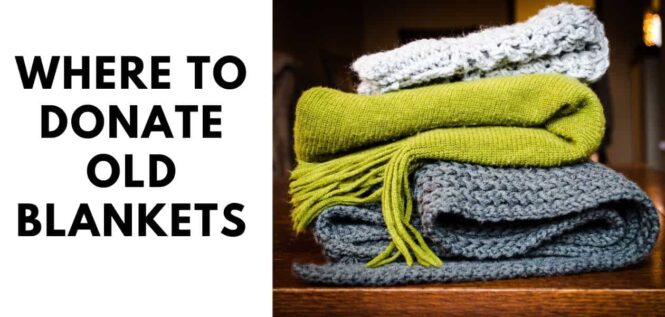 If you're looking to declutter your home and make a positive impact in your community, donating old blankets is a great place to start. But with so many organizations out there, it can be tough to know where to donate old blankets.
That's why I'm sharing my personal experience on where to donate old blankets.
After doing some research and making a few donations myself, I've come up with a list of the Best Place to Donate Blankets.
Where to Donate Old Blankets: Top 10 Places
There are many places where To Donate Old Blankets, depending on your location and the condition of the blanket. Here are 10 top places to donate:
1. The Animal Rescue League of Boston
The Animal Rescue League of Boston accepts blankets, towels, sheets, bedding, and other bedding items for animals in their care. You can donate old blankets to ARLB by contacting them directly at 877-729-4949 or at their website.
2. The Salvation Army
It accepts donations of many different types of items, including old blankets. The Salvation Army will often distribute donated items to those who are in need. In some cases, the organization may also sell donated items to help fund its programs.
The organization does good work and will put your old blankets to good use.
3. The American Red Cross
The American Red Cross is a world-renowned organization that accepts donations of old blankets, sheets, and towels. They often work with disaster relief efforts and can put your old blanket to good use there. You can also donate items through the organization's website.
4. Goodwill Industries
Goodwill Industries is a nonprofit organization that helps people in need. It will accept blankets, sheets, towels, bedding, clothing, food, and other items. There are many Goodwill outlets in every state of the country that will accept your blanket donations.
Check out this article on Goodwill vs Salvation Army, if you want to compare the two.
5. Textile Recycling Shelters Nationwide
They rely on the kindness of citizens to donate their old blankets and clothes. These shelters help keep our landfills from filling up with textiles, and they also provide clothing to those who need it most.
It's a great way to help out your community, and it's also good for the environment.
6. The Vietnam Veterans of America
The Vietnam Veterans of America accepts blankets and other bedding items for veterans in need. They also accept donations of any items that will help them serve their mission of caring for the men and women who served our country in the Vietnam War.
7. Your Local Homeless Shelter
The local homeless shelter is often a great place to donate blankets and other items. They can use your old blankets to help make a warm place for people who are living on the streets.
8. A Children's Hospital
Many pediatric patients need extra warmth at night and during procedures when they're sedated and can't regulate their own body temperature properly.
9. An Orphanage
Especially one located in a colder climate area where children would benefit from having extra blankets donated to them.
10. Your Local Church
Many churches accept donations of clothing, blankets, and other household items. They will usually distribute the items to people in need in the local community.
What is the Best Place to Donate Blankets?
The best place to donate blankets is Goodwill, a nonprofit organization that provides job training and employment services to those in need. Your donations of blankets and other household items help fund their programs and services
What is a Blanket Donation?
A blanket donation is a gift of a warm blanket to someone who needs it. It can be given to an individual or to an organization that distributes blankets to people in need.
If you have unused furniture or mattresses lying around, you will like our articles on Furniture Donation and Mattress Donations.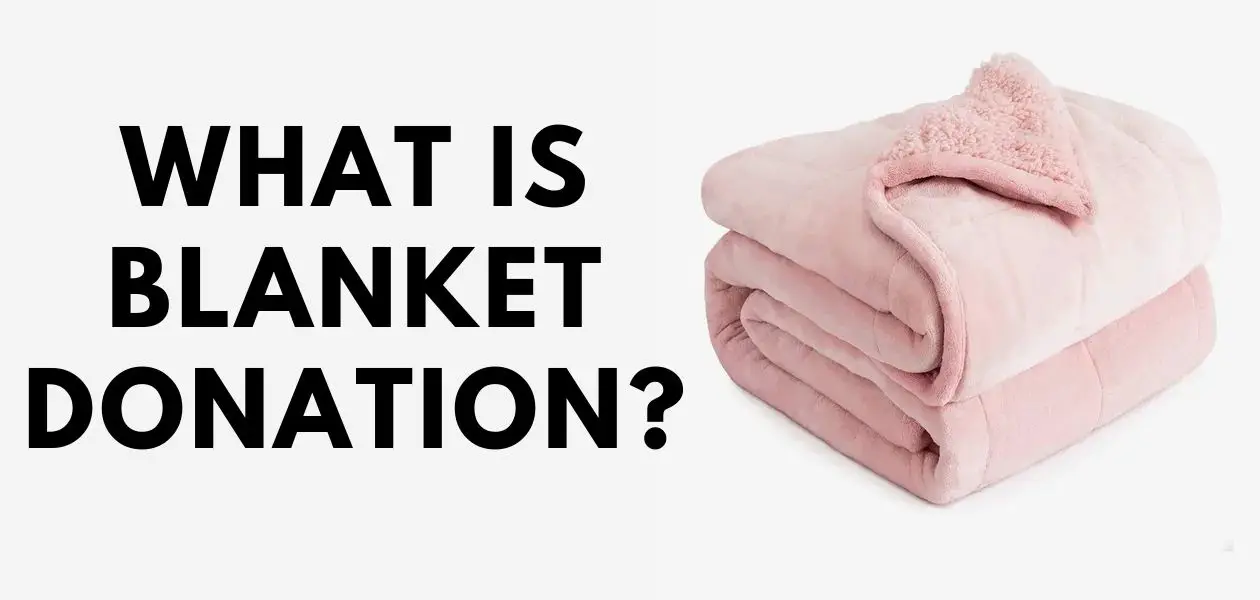 Bedding Charities that Accept Blanket Donations in The Us
Here are ten notable Bedding Charities that would be grateful for your contributions:
American Red Cross
Big Brothers Big Sisters of America
Boys & Girls Clubs of America
Catholic Charities USA
Children's Hunger Fund
The Covenant House
Feeding America
Habitat for Humanity International
Marine Toys for Tots Foundation
United Way
How to Donate Old Blankets?
Some organizations that accept donations of old blankets include The Salvation Army, Goodwill Industries, and the American Red Cross.
There are a few things you should keep in mind when donating old blankets:
Make sure the blankets are freshly washed and placed in suitable containers such as plastic garbage bags to keep them from becoming dirty.
Most charities appreciate receiving donations of textiles that have been washed and are in good condition.
Churches, homeless shelters, domestic violence shelters, and animal shelters often take blankets for their cause.
The Salvation Army accepts donations of bedding, duvets, towels, and single sheets.
If your bedding isn't in great condition, recycling it can be a good option.
There are many places you can recycle used bedding across the country.
What to Do with Old Blankets?
There are a few things you can do with old blankets:
Donate them to a local charity or homeless shelter.
Recycle them at a local recycling center.
Use them as a dust cloth or pet hair collector.
Use them as a temporary insulation layer in the winter.
Use them as a cover for furniture or a car seat.
While some people might choose to throw them away in the landfill, there are actually other, better options available. Cotton blankets may wear out over time and become damaged, but that doesn't mean they have to go to waste. Textiles are recyclable materials, so old blankets can be recycled or donated to charity, or given to a shelter instead of being thrown away in a landfill.
One way to recycle your blankets is by cutting them into pieces and sewing each piece into a seat cushion, smaller comforter, or pillow. You could also sell them to textile recycling shops. Always research the recycling program for your specific area before donating or selling your textiles; not every program accepts blankets and comforters.
What Kind of Blankets Can Be Donated?
Many types of blankets can be donated to charity, such as fleece blankets, cotton blankets, wool blankets, and synthetic blankets.
Some people may think that all old blankets should be donated, but this is not the case. There are specific items that are accepted by donation centers, and there are also certain items that must be avoided.
What Kind of Blankets are not accepted?
Most places will not accept donations of ripped or stained blankets. This is because they are usually soiled with bodily fluids and cannot be cleaned properly.
Can You Donate Ripped Blankets?
While it might be tempting to donate ripped blankets, it's important to keep in mind that they may not be very useful to those who receive them. Ripped blankets can easily become holes, and therefore are a waste of time and resources for the people who need them. However, there are other ways you can help out those in need!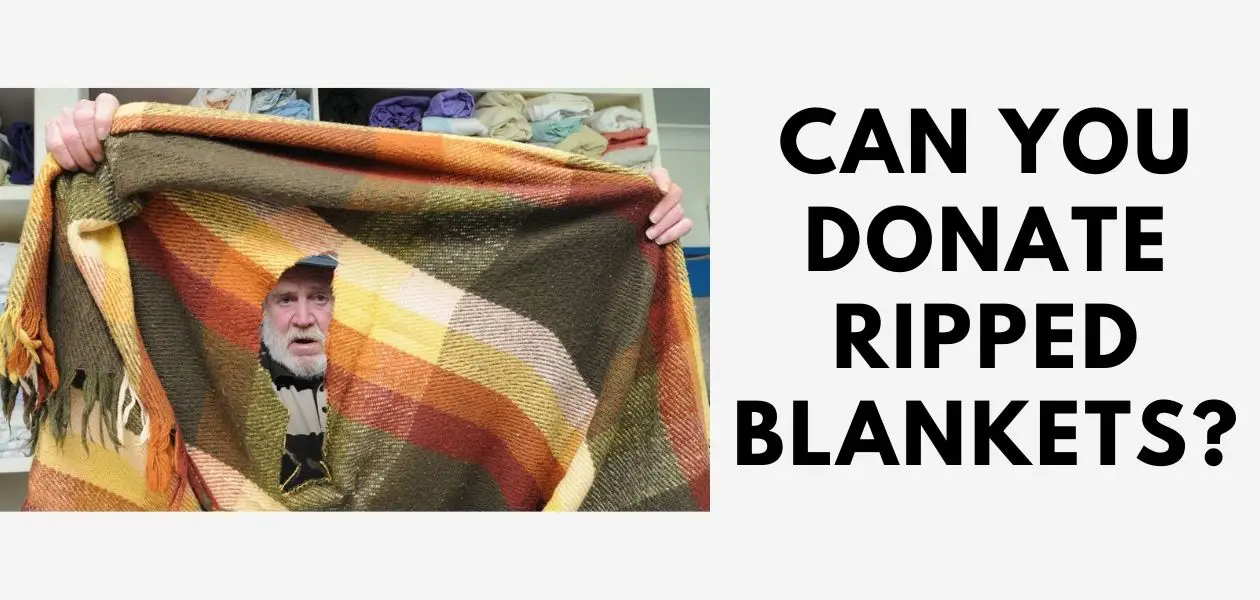 A great way to donate a ripped one is by washing your old comforters and cutting them into smaller pieces. This will provide comfort for animals in the shelters and make sure that every animal gets at least some warmth. So before you toss out those old blankets, consider this option instead!
Why is Donating Blankets Important?
Donating blankets is important because it helps those who are less fortunate stay warm and comfortable. Additionally, it can help prevent illnesses from spreading.
There are a few reasons why donating blankets is important. First of all, many homeless shelters and organizations do not have the financial resources to buy new blankets for those who need them. By donating your old blankets, you can help make sure that those in need will be warm and comfortable during the winter months.
Second, donated blankets can also help keep animals warm. Shelters often take in stray animals, and without proper insulation, they can quickly become ill from the cold weather. Donated blankets can help prevent this from happening.
Finally, donating your old blankets is a simple way to make a difference in your community. If everyone donates just one or two blankets each, it will make a big impact on those who need them the most. So if you have any extra blankets lying around, be sure to donate them to your local homeless shelter or animal shelter!
Do Every Charity Take Blankets?
When it comes to donating blankets, there seems to be some confusion as to which charities accept them. The answer is: most charities do accept blankets. However, not all charities are in need of bedding donations at all times. For example, animal shelters tend to be the primary recipients of donated blankets since they provide warmth for animals during cold weather months. And while many people think that only dirty or damaged towels are accepted by shelters, this is not always the case. In fact, many animal shelters rely on the donation of bedding, duvets, blankets, and towels to keep animals warm and comfortable.
Donations made through Amazon can be directed toward the Nebraska Humane Society (NHS). This charity works diligently year-round to care for and find homes for animals in need. By using Amazon Smile–a special program through Amazon that donates a percentage of your purchase price back to the charity of your choice–you can help NHS with their efforts without having to leave your home. Plus, when you donate items like clothes, blankets, and other household goods to charity workers, you're making it possible for them to sort through a pile of unused items and determine which ones will be donated to charity or otherwise sold for profit. So, the next time you have a few extra blankets lying around, don't hesitate to donate them to your favorite charity!
Where to Donate Old Blankets Near Me
There are many ways to recycle or donate old blankets. You can search for a recycling center or charity near you using Google.
The best way to find a place to donate your old blankets is by searching "Where to donate sheets near me" or "Where to donate bedding near me". This will give you a list of local places that accept donations of sheets and bedding.
You may also like: Can You Donate Car Seats To Goodwill.
Do Animal Shelters Need Blanket Donations?
Yes, animal shelters do need blanket donations. Blankets are used as bedding material for the animals in the shelter. It's important to keep the animals warm and comfortable, and donated blankets help with that.
Animal shelters accept clean blankets regardless of whether they are new or used. So if you have an old blanket lying around, don't hesitate to donate it! Your old blanket will be put to good use.
In addition, many animal shelters accept pillows. Pillows can be repurposed into animal crates for shelter animals. This is a great way to reuse old pillows and help out the animals at the same time!
If you're looking to donate some bedding items, check with a charity before donating so they know they are accepting donations of bedding items like pillows, blankets, or sheets and that you aren't just wasting time dropping it off at their location. It's always helpful when donors are knowledgeable about what the charity wants!
Before donating anything, make sure your items are washed and non-damaged. Animal shelters appreciate receiving clean donations! And make sure your donated bedding doesn't have holes or ripped materials–that would just be wasteful.
What Can I Do with Old Worn Blankets?
If you have old, worn blankets that you don't want to use anymore, don't just throw them away! There are a few things you can do with them instead. You can donate them to a charity or thrift store, for example. Just be careful that there aren't any valuable items hidden in the blankets before you donate them.
You can also wash and dry clean clothes before donating them to make sure they're free of germs, dirt, etc.. However, if the coat is too dirty, it will just end up in the rag bag. And if the coat is unwearable or if you wouldn't buy it because it's torn, then don't donate it – the charity shouldn't be used as a clothing disposal place.
Finally, consider donating your old blankets to charities. The Salvation Army and Goodwill are two examples of charities that use proceeds from these donations to buy low-cost coats for members of the community.
What Can I Do with Old Fleece Blankets?
Some ideas for what to do with old fleece blankets are:
Use them as a throw blanket on the couch.
Put them in the kids' room as a bedspread.
Use them as a picnic blanket.
Take them camping with you.
Use them as a baby blanket.
Use them as a dog bed.
Make a fleece octopus – this is a really easy sewing project that even kids can do!
Patchwork blanket – this is a great way to use up lots of different colors and patterns of fleece.
Scarves and gloves for your pets – dogs and cats will love staying warm in the winter with their own personalized set of accessories.
Can You Donate Handmade Blankets?
Yes! Goodwill is always in need of crochet blankets and other items. They accept all handmade donations, so your skills are definitely welcome here!
They run campaigns periodically, so donations should be made at the time of a campaign. Down Feathers as Fertilizer – Afghans for Afghans accept crochet blankets and other items.
They run campaigns periodically, so donations should be made at the time of a campaign.
Can You Donate Crocheted Blankets?
Afghan for Afghans is a non-profit organization that helps Afghan refugees. They not only accept crocheted blankets but also accessories and clothing. However, they only accept donations during their campaigns periodically. So if you're looking to donate your crochet skills, be sure to keep an eye out for when their next campaign begins!
It's easy to get involved with their projects- all you need is leftover fleece from any project or DIY project you've done previously! Simply crochet a simple blanket, and you'll be helping someone in need.
Conclusion
There are many places Where To Donate Old Blankets, and each place has its own benefits. You can choose the place that is best for you, depending on your needs and preferences.