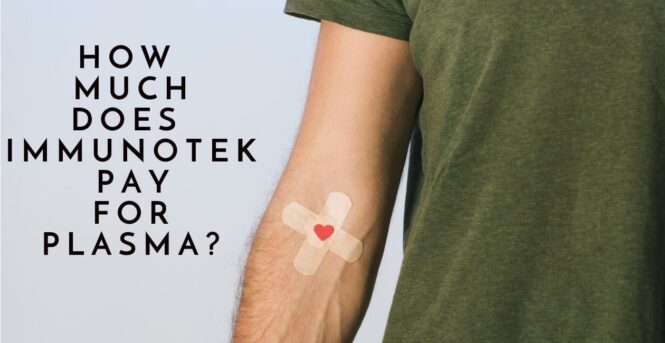 Do you think you could earn good cash by donating plasma? You know that there are a lot of companies that buy human plasma in order to manufacture blood products for hospitals. But if you have ever wondered how much does immunotek pay for plasma, you are about to find out.
You might be thinking, "Well if I am going to sell my plasma, I can just get paid a fair amount of money." But that's not the case always. That is why you need prior research on the companies you might be interested in giving your blood plasma to.
In this article, I'm going to give you a clear idea of earning expectations by giving you the answer to how much does immunotek pay for plasma donation.
How Much Does Immunotek Pay for Plasma?
Immunotek pays $100 for your first plasma donation. Thereafter, all the subsequent donations will be $60 payments.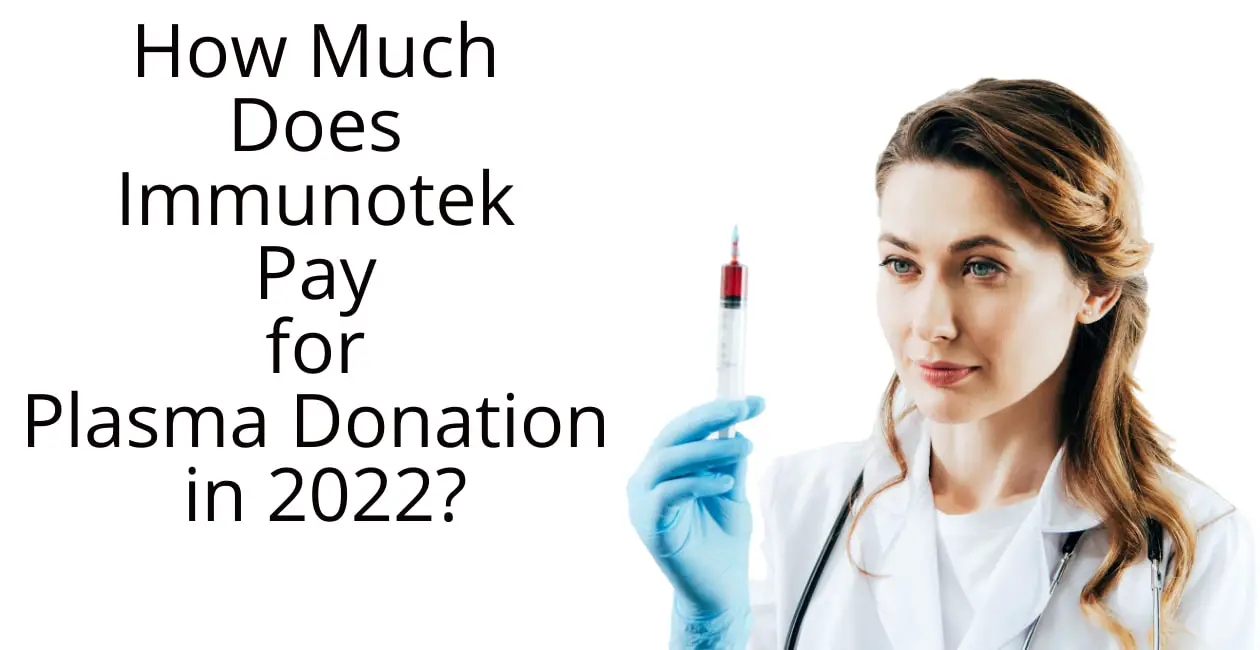 You may like our this Plasma Donation article on Can You Donate Plasma if You Take Adderall?
Is It Safe to Donate Plasma Twice a Week?
How Much Does Immunotek Pay New Donors?
New donors are paid $100 upfront for their first time plasma donations.
What is ImmunoTek?
ImmunoTek Bio Centers is one of the best companies in the United States that is currently offering a good plasma donation program.
It has a very well-maintained plasma collection center and its plasma donors are well-treated. So, you can be assured that the process of donation to ImmunoTek is safe and secure.
So if you are thinking about becoming a donor, you should know that ImmunoTek is a good company that will pay you well.
Immunotek Plasma Donations Centers in the US
You can find ImmunoTek Bio Centers in the following states:
ALABAMA- Anniston
1430 Quintard Avenue
Anniston, AL 36201
ARKANSAS-Pine Bluff
2809 South Camden Road
Pine Bluff, AR 71603
COLORADO-Pueblo
Tue-Sat: 10am – 4pm
719-242-9793
3020 Hart Rd.
Pueblo, CO 81008
DELAWARE-Wilmington
3006 Governor Printz Blvd
Wilmington, DE 19802
FLORIDA-Cocoa
Tue, Thu, Sat: 8am – 4pm
Wed, Fri: 10am – 6pm
321-338-1646
1225 West King Street
Cocoa, FL 32922
GEORGIA-Albany
Tue-Sat: 8am – 5pm
229-302-5709
300 S. Slappey Blvd.
Albany, GA 31701
INDIANA-Indianapolis
3859 W Washington Street
Indianapolis, IN 46241
Jeffersonville
Tues-Sat 10-4: 10am – 4pm
812-850-3126
1665 E. 10th St.
Jeffersonville, IN 47130
LOUISIANA-Slidell
Tue-Sat: 8am – 5pm
985-288-2680
1224 Front Street
Slidell, LA 70458
Ruston
105 W California Ave
Ruston, LA 71270
MISSISSIPPI-Horn Lake
Tue, Thu, Sat: 8am – 4pm
Wed, Fri: 10am – 6pm
662-913-2506
3100 Goodman Rd.
Horn Lake, MS 38637
Jackson
2055 Raymond Road
Jackson, MS 39204
McComb
1618 Delaware Avenue
McComb, MS 39648
NORTH CAROLINA-Greensboro
4536 W. Market St.
Greensboro, NC 27407
Hendersonville
Tue-Sat: 10am – 6pm
828-393-4643
1257 Asheville Hwy
Hendersonville, NC 28791
High Point
Tue,Thu, Fri, Sat: 7am – 3pm
Wed: 11am – 7pm
336-781-4901
1628 S. Main St., Ste 105
High Point, NC 27260
Rocky Mount
Tue-Sat: 9am – 4pm
252-316-7135
828 Harbour West Drive
Rocky Mount, NC 27803
Salisbury
Tue,Thu, Sat: 8am – 4pm
Wed, Fri: 10am – 6pm
704-314-2098
640 Jake Alexander Blvd. West
Salisbury, NC 28147
OHIO-Cleveland
15609 Lakeshore Blvd
Cleveland, OH 44110
Mansfield
1009 Park Ave W
Mansfield, OH 44906
Zanesville
1747 Maysville Avenue
Zanesville, OH 43701
SOUTH CAROLINA-Columbia
Tue, Thu, Fri, Sat: 7am – 3pm
Wed: 11am – 7pm
803-766-7462
2601 Broad River Rd.
Columbia, SC 29210
Why ImmunoTek Offers the Best Plasma Prices in the Industry?
ImmunoTek is the only plasma supplier in the industry that can offer you the best prices on plasma donation. You will not find any other plasma supplier offering a better price for your time than what they are able to offer.
How Do I Get Started with ImmunoTek Bio Centers?
Simply stop by any ImmunoTek Bio Center nearest you. Donor Recruitment is open Monday through Friday from 8:00 am to 5:00 pm.
What Will Happen When I Visit an ImmunoTek Bio Center?
When you arrive at the center, you will be greeted by a member of their team who will complete a brief questionnaire to determine your eligibility for donation. Once you have been determined eligible, you will be asked to provide a signature and date of birth. A photo may also be taken for documentation purposes. You will then be asked to provide a Social Security Number (SSN). The SSN is used to verify your identity as a plasma donor. After completing these steps, you will be given a form that you must sign and return to the ImmunoTek Bio Centers. This is how the process works if you are wondering about how much does immunotek pay for plasma doantion.
What are the Age Requirements to Become a Plasma Donor with ImmunoTek?
Wrapping Up
In conclusion, immunotek pays $100 for your first visit and $60 for every visit after that. The company has a wide variety of locations across the United States. I hope that I was able to answer your question about how much does immunotek pay for plasma in 2022.