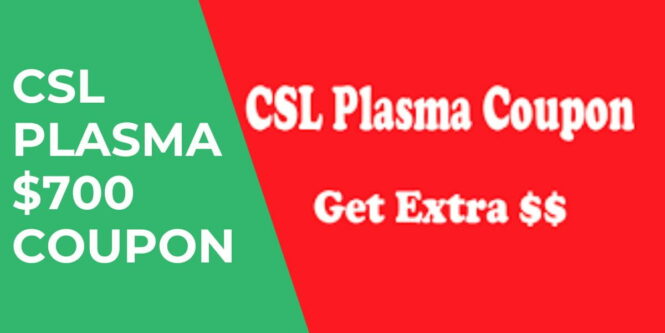 When I heard CSL is giving out a $700 coupon to its plasma donors, I decided to write a blog post on it so we can all benefit from it.
The $700 coupon is one of the juicy rewards that CSL plasma offers its new plasma donors.
Let's dive right in and get you on your way to learning all you need to know about this exciting offer!
What Is the CSL Plasma $700 Coupon?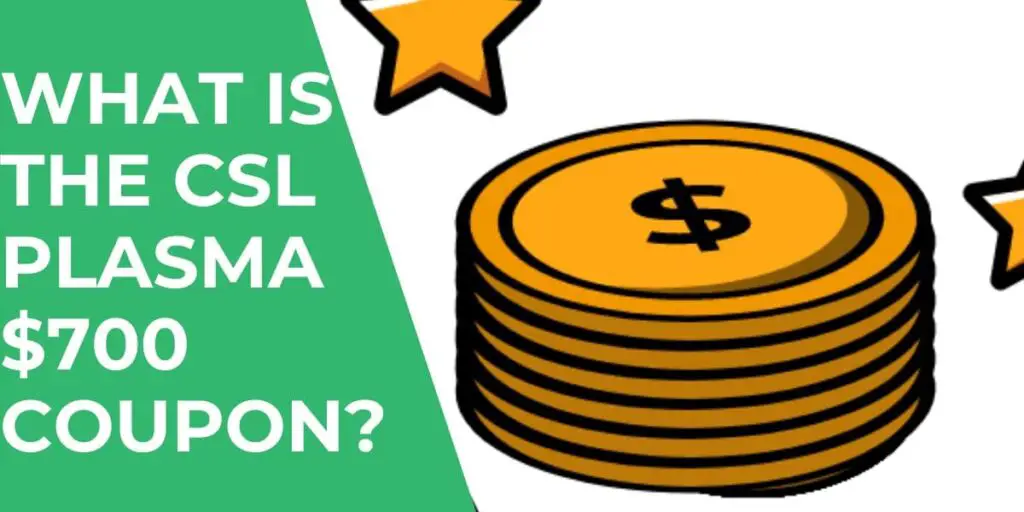 The CSL Plasma $700 coupon is a bonus that allows new donors to earn up to $700 in their first month of donating plasma. To qualify for the coupon, you must be a new donor and meet the qualified health and medical criteria.
Did you know you can get $1k from CSL? Check out this post on CSL Plasma 1000 Bonus to know more.
How to Get the CSL Plasma $700 Coupon
Follow these steps to Get the CSL Plasma $700 Coupon:
Check Eligibility – To qualify for the CSL Plasma $700 coupon, you must be a first-time donor and meet specific health and medical criteria. You can check the eligibility requirements on the CSL Plasma website or by contacting your local CSL Plasma donation center.
Schedule an Appointment – Once you've confirmed your eligibility, you can schedule an appointment at a CSL Plasma donation center near you. You can do this by visiting their website or calling the center directly.
Complete your first donation – Complete a health screening and a plasma donation at your appointment. A donation takes about an hour, and you'll be compensated for your time.
Earn Your Coupon – After completing your first donation, you'll receive compensation and be eligible for the CSL Plasma $700 coupon. The coupon is earned by completing three plasma donations within the first month of donating, with higher payouts for donors who complete more donations.
You may want to check out the detailed CSL Plasma Pay Chart, if you are deciding to be their long-term donor.
Purpose of The $700 Coupon from CSL Plasma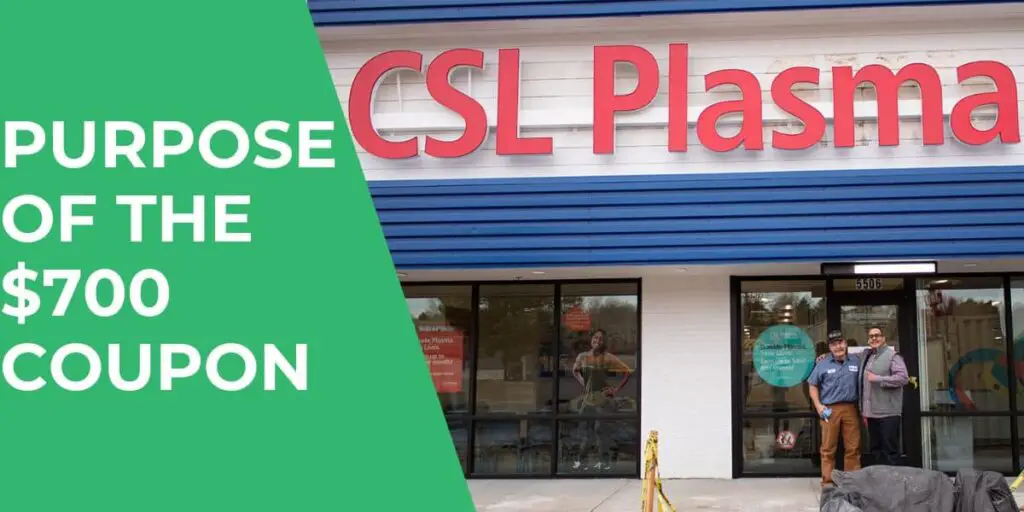 The CSL Plasma $700 coupon is a promotional offer that encourages people to donate plasma and help patients in need get treatments that can save their lives. It is a way for CSL Plasma to encourage new donors to donate plasma and reward returning donors for their continued contributions.
The promotion compensates donors, making it a win-win situation for donors and patients who benefit from their plasma donations. Returning donors can also benefit from the promotion by receiving a $20 bonus coupon for every fifth donation they make within a month.
Check Grifols Plasma Bonus Coupons for comprehensive information about the coupons available at Grifols and how to get and redeem them.
Redemption Process of the CSL 700 Coupon
First, find a CSL Plasma donation center near you. You can visit their website or use their mobile app to locate the nearest one. Once you've found a center, you can call to schedule an appointment or walk in during their operating hours.
You must provide the coupon code to the CSL Plasma staff during your visit. They will verify the code and credit your account with the $700 bonus. This credit will be added to your existing or new CSL Plasma debit card, which you can use for future donations or to withdraw funds from an ATM.
Can the $700 Coupon Be Used at Any CSL Plasma Location?
The CSL Plasma $700 coupon can be used at any CSL Plasma location across the United States. You can redeem your coupon for its full value at any of CSL Plasma's facilities.
Is There a Limit on the Number of Times I Can Use the $700 Coupon?
There is no limit to how many times you can use the $700 coupon at CSL Plasma. You can use the coupon every time you donate plasma if you meet the eligibility criteria and follow the donation guidelines.
How Long is the $700 Coupon Valid?
The coupon is valid for a limited time (6–8 months from the issue date). It's best to check the expiration date printed on the coupon or contact CSL Plasma's customer service for more information.
Can the $700 Coupon Be Transferred to Someone Else?
CSL Plasma coupons are intended for personal use and cannot be transferred to someone else. This means that the coupon is only valid for the person who received it and cannot be used by another individual.
Conclusion
Whether you're a current plasma donor or considering becoming one, CSL Plasma's $700 coupon and Plasma 1000 Bonus are fantastic ways to earn some extra cash while donating plasma.
All you have to do is ensure you are eligible for the offers and meet the requirements. By taking advantage of these offers, you're benefiting yourself and contributing to a larger cause that saves lives and brings hope to those who need it most.